Cumberland River Greenway
December 29, 2020
@
9:30 am
Metro Center Section 5.5 Miles. Easy.
Our trailhead will be Freeland Station, 766 Freeland Station Road and we will exit at Morgan Park in Germantown. The entire walk is on the Levee which follows the river. Despite the urban setting the river's natural features are still in evidence.
There is no shade or protection from the elements so dress for the weather. My son and I " shuffled along" the levee back in May on a warm sunny day and we just about burned up. If it is sunny that day you might want to bring sunscreen.
We saw goats along the river bank and some good ole boys drinking Whisky and Rye and heard "music and song". You won't need your hiking boots or poles but do bring water.
After we exit at Morgan Park (where we will have left a car to take the drivers back to the traihead) in Germantown we will have lunch/brunch at Butchertown Hall nearby. Meet at 9:30 CT for caravanning at First Presbyterian Church, 172 W. Main Street in Hendersonville. For further info or if you want to meet us at the trailhead contact Owl.
Owl
(615) 454-7673
ballallenger@aol.com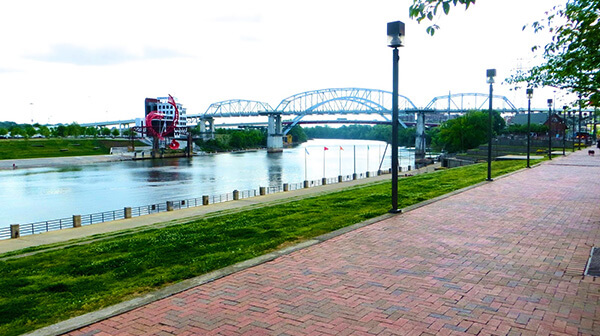 Related Events