Foster Falls Climbers Loop & Fiery Gizzard Trail to Laurel Gorge
highland-rim, murfreesboro
December 26, 2020
@
9:00 am
Foster Falls Climbers Loop and Laurel Gorge on the Fiery Gizzard Trail. South Cumberland State Park. 5 miles rated moderate. Trailhead is about 7.5 miles south of Tracy City on Highway 41.
Joint hike with the chapters Highland Rim and Murfreesboro.
From the Foster Falls observation deck with scenic views, we will descend to the base of the 60ft. Foster Falls. The trail follows Little Gizzard Creek on the left and towering bluffs on the right. Then we'll ascend to the top of the bluff and turn left on the Fiery Gizzard trail. From here we will continue to Laurel Gorge and retrace our steps back to the trailhead. Wear sturdy hiking boots. Bring water, lunch, snacks, hiking sticks and bright head lamp. Meet at 9:00 am CST at the Foster Falls trailhead.
Joan Hartvigsen
931-962-0811
jhartvigs@comcast.net
Sara Pollard
(615) 714-3610
sarabpollard@gmail.com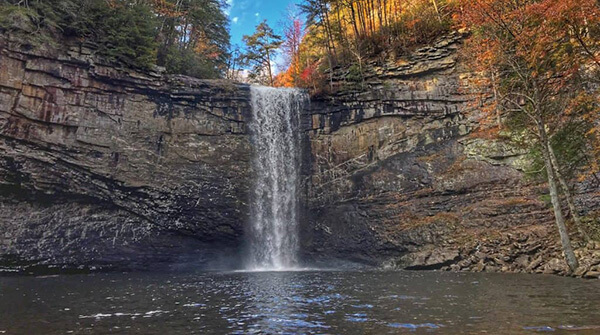 Related Events