Highland Rim Chapter Meeting—Special Event at Valley View Farm!
October 24, 2022
@
5:00 pm
–
7:00 pm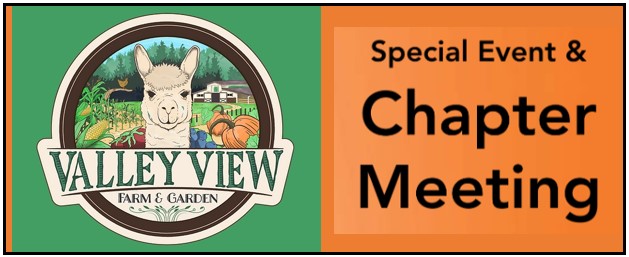 On Monday, October 24, at 5:00 pm we will meet at Valley View Farm, 165 Valley View Ln., Manchester. The farm is located about halfway between Tullahoma and Manchester, just off Hwy 55. https://www.valleyviewfarmandgarden.com/
Valley View Farm is locally owned by Mike and Joann Chissler, who have made this a tourist and education destination featuring a herd of alpacas, a 1.5-acre garden that produces fruit, vegetables, flowers, seasonal items, and a Country Store. The farm will be decorated for Halloween, so it should be a very festive!
Our group will meet at 5:00pm for a hike around the farm. At 6:00 we'll come together at their picnic area; make sure to bring your own picnic dinner and drink. Owner Mike Chissler will talk to us about all the activities and opportunities that Valley View Farm provides.
One point of business will be the election of officers for the 2023 calendar year.