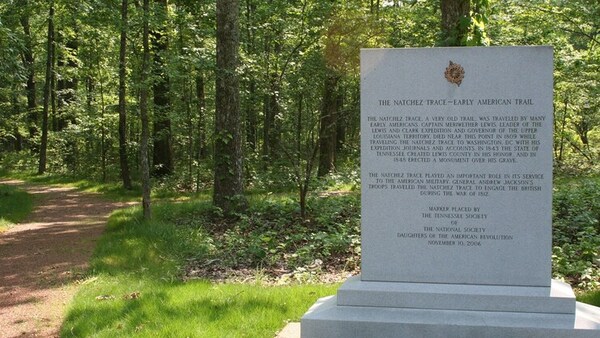 On February 6, 1925, President Calvin Coolidge used the Antiquities Act of 1906 to establish Meriwether Lewis National Monument. The War Department managed the monument, and the superintendent of Shiloh National Military Park was put in charge of the monument site.
Lewis arrived at Grinder's Stand on the evening of October 10, 1809. He was accompanied by Pernia and Neelly's enslaved servant. James Neelly remained farther south, looking for horses that had escaped the previous night. Lewis stayed in the cabin while Pernia and Neelly's enslaved servant stayed in the stables. Mrs. Grinder and her children stayed in the kitchen separate from the house. In the middle of the night Mrs. Grinder heard two gunshots and found Lewis bleeding from his wounds. By sunrise on October 11,1809, Lewis was dead. Historical accounts support the probability of suicide. When Neelly arrived later in the day, he arranged to have Lewis buried a few hundred yards from Grinder's Stand.
The planned hike is a 5.2 mile loop trail which starts near the Meriwether Lewis Monument.  Prior to arriving at the monument is a recreated log cabin with a parking area along its side and back corner.  This parking lot will be the meeting place to commence the hike if you wish to meet at the hiking site.  
The hike leader (Chris Hoffman) recommends that we meet at Kroger's at 845 Nashville Highway (highway 31) on the north side of Columbia south of Bear Creek Pike.  Being summer we should meet there at 7:00 AM and start our hike at 8:00 AM.
Please contact Chris Hoffman if you plan to attend and let him know where you plan to meet: 712.755.3751/chrishoffman51@gmail.com.