Sat Mound Bottom & Narrows of the Harpeth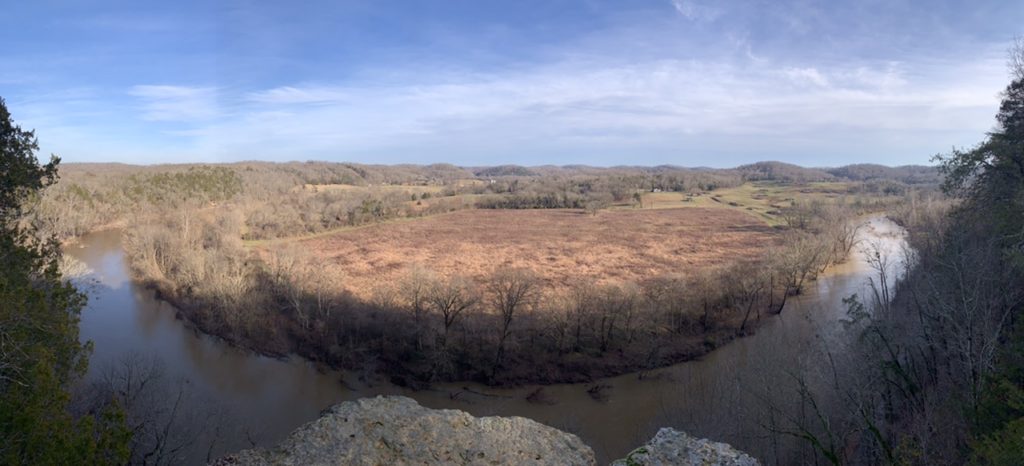 Harpeth River State Park. Part One: We'll hike into a Native American mound site, guided and interpreted by Park Ranger Jacob Hardin. This will take about two hours – easy hiking.
Mound Bottom State Archaeological Area is an ancient Native American mound center that dates to around 1000–1350. The site core includes at least 12 earthen mounds oriented around a 7-acre plaza within a meander bend of the Harpeth River.
Part Two: On our own, we'll relocate to the Narrows of the Harpeth area of the park where 2 trails start from a common trailhead near the park entrance. A half-mile bluff overlook trail includes a steep ascent to a narrow bluff offering hikers a panoramic view of the Harpeth Valley. A half-mile trail along the backside of the limestone bluff leads to the site of Montgomery Bell's Pattison Forge where a small waterfall is all that remains of the iron forge operation.
Part Three? Options: As a group or on your own, hike one or more of the other areas of the park: HIdden Lakes, Gossett Tract, Newsom Mill. Options for lunch nearby.
Meeting Time: 8:30 am CST.
Meeting Location: HWY 70 Canoe Access1007 Cedar Hill Rd, Kingston Springs, TN 37082
For more information and to register, call or leave a message for Doug Burroughs at 615-587-0085. Please check the website listing for a possible day of hike update/cancellation.
Doug Burroughs
(615) 587-0085
dougburroughs@tennessee.usa.com