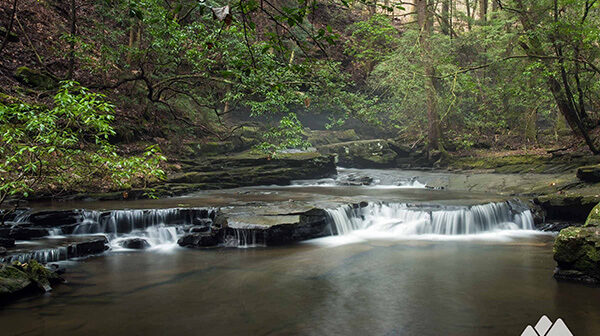 The Grundy Forest Day Loop is perhaps one of the best short hikes in the entire Park. This 2-mile circuit takes in the northernmost section of the famed Fiery Gizzard Trail and follows both Fiery Gizzard Creek and Little Gizzard Creek for much of its route, with tumbling cascades, several waterfalls and swimming holes along the way. If you wish to continue on, try the 3-mile Sycamore Falls spur that brings you to some interesting geological formations and waterfalls.
Grundy Loop is two miles. The round-trip spur to Sycamore Falls is .8 mile. Total hike is approximately 3 miles. This hike is easy, moderate, and strenuous at different points. The trail consists of both dirt and rocks along with roots in places. Parts are level and parts are up and down. Climbing up and down rock steps is part of the hike. We hike under a forest canopy, along streams, waterfalls, and interesting rock formations.
Note: it is advised that you bring two hiking poles, sturdy hiking shoes, plenty of water and snacks. Have available insect repellant if mosquitoes become a problem. Dogs need to be on a leash. This is a popular trail where we will encounter other people. Bring a towel in case you want to dip your feet into a refreshing pool.
Trailhead Location: 131 Fiery Gizzard Road, Tracy City, TN 37387. There is a restroom at trailhead.
Tollgate Medical Center carpool departure time: 7:00 a.m. (please arrive by 6:45 a.m.)
Hike trailhead departure time: 9:00 a.m.
Chris Hoffman
712.755.3751
chrishoffman51@gmail.com