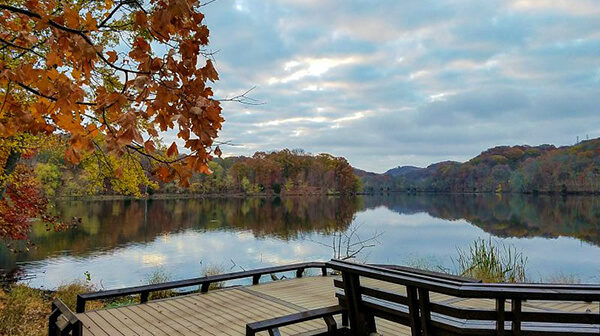 The park is perfect for nature enthusiasts to observe owls, herons, and waterfowl as well as many species of amphibians, reptiles, and mammals such as mink and otter. Hundreds of species of wildflowers, mosses, fungi, ferns, and other plants, as well as trees, shrubs, and vines, add to the natural ecological diversity of the area. Several ranger-led programs are planned throughout the year including canoe floats, wildflower walks, astronomy night hikes, nature hikes, programs on snakes, off-trail land acquisition hikes, and birds of prey. We chose this date to view the changing seasons notable here in mid Tennessee.
First-time visitors are encouraged to visit the Walter Criley Visitor Center to view interpretive exhibits on the history of the natural area, cultural/historical artifacts, wildlife displays, view a wall-size map of the trail system and/or watch an 18-minute film on how the natural area was saved in the early 1970s. 
We will hike the Lake Trail along with the South Lake Trail (~3.0 miles and moderate).  The Spring Hill/Columbia people will meet in the parking lot behind the McDonald's (4910 Main St, Spring Hill, TN) at 8:00 a.m.  We will meet the Franklin people at the Walter Criley Visitor Center at Radnor Lake at 9:00 a.m.  While dogs are allowed at Radnor Lake, they are only allowed on the paved road areas and not on the Lake Trail or South Lake Trail.  
Hike Leader: Jane Coffey – jecoffey0644@gmail.com