September 30, 2021
@
3:00 pm
–
October 3, 2021
@
1:00 pm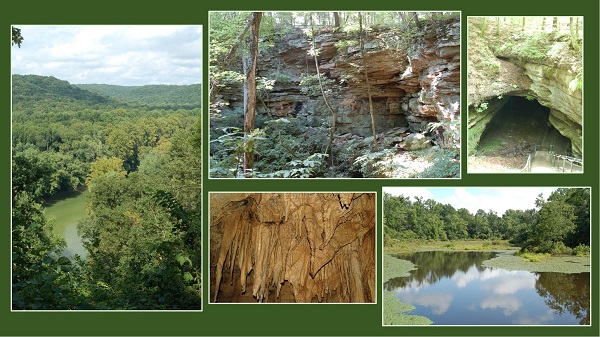 Thursday September 30 to Sunday October 3 – Mammoth Cave National Park Expedition.  
Our Exploration of Mammoth Cave NP in Kentucky will include planned activities Thursday afternoon through mid-day on Sunday.  We will meet Thursday afternoon Sept 30 at 3:00 pm by the Visitor Center for an easy 2-mile hike around the historic area with views of the Green River and River Styx spring.
On Friday we will take the ranger-guided Grand Avenue cave tour. This is a 4-hour/4-mile hike that is rated as strenuous for length and stairs. There are 2 restroom stops; only water is allowed in the cave unless you have a medical issue that requires a snack. You will have free time in the afternoon to do your own exploring. Cost for the cave tour is $35, or $17.50 with a National Park Senior/Access Pass Holder. There is a limit on the number of tour participants; I will reserve spots in advance.
On Saturday we will hike the 10.2 mile back-country Sal Hollow-Buffalo Creek loop trail. The single-track path winds through beautiful forest with massive oaks, beech and cedar, past bluff springs, sinkholes and old homesites. The trail is rated moderate to difficult, however given the relatively dry conditions this time of year it should be on the moderate side. Much of the path is actually easy.
On Sunday morning we will kayak the Green River. A local operator will provide kayaks and shuttle us to the put-in at Dennison Ferry for a 3 to 4-hour trip to Green River Ferry. The trip passes through the gorge with wooded hills, limestone bluffs with small caves and sandy beaches. This paddle is rated as easy, suitable for all levels. Cost for the kayak rental and shuttle is $45.
Note that there will be opportunities to enjoy the park's bike trails both on Friday afternoon and Sunday afternoon.
A site in the Maple Springs Group Campground has been reserved for 4 nights, Thursday through Sunday evening for those who wish to extend their stay past Sunday's activities.
There is a maximum of 16 participants for this event. Due to parking & logistical restrictions participants with an RV will need to make their own reservations in the nearby Mammoth Cave Campground.
Please contact Patty Deen pdeen@palomar.edu or text to 760-703-8115 to indicate your interest in this trip and for more information. Deadline to sign up is Friday September 24.