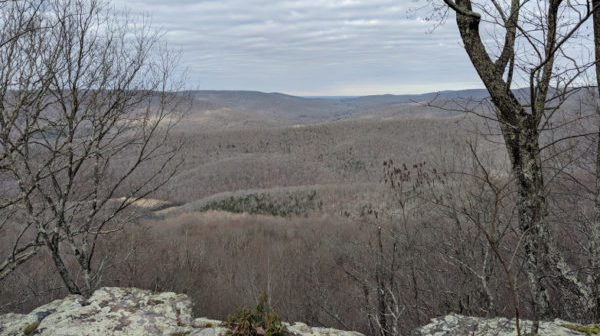 Sherwood Forest is a 3,075-acre Designated State Natural Area located in Franklin County that protects the federally endangered Morefield's Leather Flower (Clematis morefieldii) and the federally threatened painted snake coiled forest snail (Anguispira picta) in addition to several other state-listed plant and animal species.
This forest community has numerous dominant species that include sugar maple, buckeye, tulip poplar, buckeye, and basswood. Many of the slopes and spurs are an oak-hickory forest community with white oak prevalent on mid slopes and scarlet, black, and chestnut oak occurring on drier upper slopes. The natural area has a wonderful spring wildflower display that adds much seasonal color to the forest floor. 
Columbia/Franklin Members will meet at Tollgate Medical Plaza at 7:00 a.m. If you plan on meeting us closer to the hiking trail, Chris suggests that we meet at 8:30 a.m. at the Shell gas station at 744 W. Main St., Monteagle (the trailhead has no discernible address). We will leave from the Shell station at ~8:45 a.m. which should place us at the trailhead at ~9:10 a.m.
Hike Leader: Chris Hoffman – chrishoffman51@gmail.com. Please leave contact information in case of inclement weather.